Extract and Convert Your DVD Clips in 3 Easy Steps
With Cinematize 3 Pro, DVD clip extraction is a piece of cake. Select your clip using the new improved preview and decide options for video, audio, subtitle, and output. Then add as many clips as you like to the newly enhanced Extraction List. Review the list and hit the Extract button. Now sit back and relax. Let Cinematize 3 Pro do the work for you while you take it easy!
STEP 1: Select
Segment Tab:
Preview any combination of video, audio, and subtitles to quickly locate your clip
Load up movies faster with threaded background reading of DVD data
Select Start and End Points down to the frame level
Select from any Title, Angle, and from both main movie and menus
View timecodes as either Chapter relative or Title relative times
Select from video recording files on DVD-VR discs
Video Tab:
Select any video streams in any DVD video format including PAL, NTSC, MPEG-1 and MPEG-2
Decode the video using a codec of your choice, now with higher output video quality
Simply pass through the raw compressed data to keep the original high quality
Select de-interlacing and still picture format options under Video Preferences
Audio Tab:
Select any available audio track, whether in PCM, AC-3, MPEG, DTS or SDDS format
Decode the audio or simply pass through the raw compressed data with the original high quality
Specify output audio sample size up to 32 bits
Adjust the output volume level as needed
Output Tab:
Select by Output Type to easily narrow down the best output format to meet your extraction goals, whether for high-quality output, for TV and presentations, or for web or mobile devices
Select among Output Formats such as QuickTime, DV, AVI, MPEG-4, iPod Movie, etc
Select among newly added Output Formats including H.264, iPad, iPhone, and 3GP Phone movies
Advanced users can also select an Output Format among any installed QuickTime Export components
STEP 2: Add
Extraction List:
Add to the List as many clips as you like, each with the same or different settings
Extract clips from multiple File Groups at once
Easily locate selected clips in the List with the thumbnail view
Review details, edit, duplicate, replace, or rearrange clips in the List
Extract each clip in the List separately, or combine them all into one output movie
Save and load entire Extraction Lists for reuse
With the new Extraction List, you can even extract clips with different settings. So you can extract English and French audio tracks, a high-quality QuickTime movie and a compressed iPod movie, short and long movies, clips from different Video Title Sets -- all in one shot!
STEP 3: Extract and Convert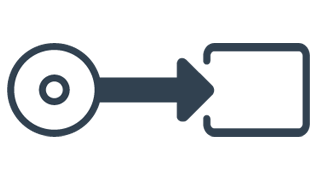 When the Extraction List is ready, hit the "Extract Data" button and Cinematize 3 Pro will extract and convert your clips for you.
Faster extraction with threading to take advantage of multiple CPUs
Save settings without restrictions and load them in later to jump-start your next project
Now sit back and relax, while Cinematize 3 Pro does the work for you!
Note: Cinematize 3 Pro extracts from any unencrypted DVD, including DVD content decrypted by popular ripping utilities and drivers. USE OF THIS SOFTWARE TO EXTRACT DVD CONTENT MAY REQUIRE THE PERMISSION OF THE COPYRIGHT OWNER.